Profile of Vincent J.C. McCastle Sr., Creator of Measurable Marketing: "How to make your marketing-and-sales program perform measurably."
Salesman
Vince McCastle has vast experience as a marketer and salesman. Among Vince's accomplishments include 7 years of experience (from 1987 to 1993) as an office equipment salesman for Caltronic's (formerly known as Modern Office Machines) where he established a sales record of 33 sales in 15 days and earned six "Salesman of the Month honors." Previously, Vince had worked for Rabbit Copiers and Kennedy Business Equipment where he developed an interest in direct-response marketing methods generating quality sales prospect and achieving management's marketing and sales goals.
Marketing consultant
In 1993,Vince worked a short stint with a start-up large format printing company named Keroke Imaging Center where he assisted in creating some breakthrough marketing/sales programs and materials, as well as gained some valuable accounts such as Hitachi and Bethany College of Scotts Valley. Shortly thereafter, Vince decided to become a freelance marketing and sales consultant and began assisting other small to medium sized businesses to improve their marketing and increase their sales. On one occasion, while marketing for Provider Representation Services, the direct mail program that Vince created and mailed produce a 2% response in the first month, 22% response in the second month, and a 55% response in the third month.
In 1993, Vince decided to research methods to increase sales and develop effective marketing strategies. After much independent research, David Ogilvy's book Confessions of an Advertising Man first introduced Vince to direct-response marketing—the discipline that satisfied Vince's search to create and execute marketing and sales programs that perform measurably.
Through the discovery of this discipline, Vince was led to receive additional training at the Henry Bloch's School of Business at the University of Missouri in Kansas City. There he earned certification as a Professional Direct Marketer.
Shortly thereafter, in1999, he was recruited by Ilog Inc., "The world leader of optimization, visualization and business rule software" as a contractor to launch e-optimization.com. This international website connected the community of optimizers and increased the visibility of optimization. During his time with Ilog Inc., Vince acquired 38 new international companies for the community. This immediately led management of the project to persuade Vince to continue with them and grow the community as the Community Manager. Vince also led their first Search Engine Optimization program which drove quality sales prospects to its sales reps. Vince was afforded the opportunity to develop integrated direct marketing programs and materials that included direct mail, e-mail marketing, web marketing and tele-marketing. From 1993 to 1999, Vince served 32 companies.
Vince started Measurable Marketing in April 2001, and has assisted over 33 companies to create and/or execute marketing and sales programs that perform measurably. The total number of companies he's served now stands at 65. Measurable Marketing now has 65-programs, built-and-ready to go. For example, he recently created and executed a program for a Una Mas franchisee that increased his catering business by 25 %, leading to an extension of the contract for a second year and an industry-specific, proven restaurant marketing program for other corporations and franchisees.
Another example of Vince's powerful marketing programs was seen in his work with A2Z Specialty Advertising. He began by assisting A2Z to write a business and marketing plan that improved the company's direction. Vince then created a website copy (written text) that improved their sales by 20%, and improved their marketing and sales strategy by developing a brochure that included a single coherent message he constructed to increase repeat business, referrals, and convert new prospects. A2Z has recently come back for a revision of the brochure and continues to return for services. John S. Shaw, President and CEO, says this of Vince:
A2Z, Inc. owes a debt of gratitude to Measurable Marketing (Vince McCastle), for an outstanding job done in the overall success of our company. There are three things we are compelled to testify on, and they are as follow: Strategic Planning, Focus, and Competitive edge.
While A2Z had a basic plan it was not strategic. Measurable Marketing developed a strategic plan that produced measurable results in both market analysis and direct marketing.
Our focus was too narrow, and Measurable Marketing helped to sharpen our direct marketing plan and align all of our promotional material including our website copy to provide a consistent and coherent message.
Measurable Marketing through considerable marketing analysis helped us to differentiate our selves from our competition.
For all of the above achievements, we believe an overall growth rate and ROI (return-on-investment) have been in excess of 35%. We appreciate Measurable Marketing's continued support.
His long suit: how to create and execute marketing and sales programs that perform measurably. Vince accomplishes this by applying the famous 40-40-20 rule of direct response marketing's creating complete programs with materials and execution to increase his client's quality prospects, profitable clients and customers (a.k.a. repeat business), increase marketing and sales return-on-investment ROI and profit. Additionally, he shows them how to measure the effectiveness of the programs and leverage them to increase their results.
Speaker
As a speaker, Vince has spoken at "You, Your Business and the City" where Mayor Susan Hammer was the featured speaker.
In July 2007, Vince was the employer of the month speaker at Brooks College, performing two speeches to its student body. Brooks was so satisfied with Vince's keynote speech "How in the World did We Get Here?" that once again, they requested him to deliver their keynote speech for Brooks' 2008 graduates. "A passion to empower you through communications" is his mission.
Instructor
Vince is also an instructor for the Business Training Academy that teaches small business owners how to write a business plan, develop an attitude for success, build the relationships and network for success.
Vince was also elected as Educational Coordinator for the Ontrack Group of Mountain View at Shoreline Business Networking International, an international networking organization that teaches small business owners how to build relationships and create a referral-based business. Weekly, he provides a 3-5 minute talk to topics for fellow members on how they can increase quality referrals.
Managing Partner
As Managing Partner since 1993, Vince has identified resources and built teams that can assist with the creation and execution of his clients' marketing and sales programs. Some of these resources include copywriters, graphic designers, web designers, search engine optimizers, printers, and direct mail houses.
Measurable Marketing's vision is to become an ethnically diverse, employee owned and operated direct marketing agency. Because of this, Measurable Marketing serves as a learning center for those with the raw talent that want to learn how to do quality direct-response work.
Measurable Marketing has several essential standards for the materials it creates for it clients: it must be readable, legible, comprehensible and response effective. This progressively produces your quality prospects, profitable clients and customers (a.k.a. repeat business), increases marketing and sales return-on-investment ROI and profit, and leverages it with a customer and prospect focused creative (written text and graphic design) materials, and media.
The bottom line is, Vincent J.C. McCastle has 65 prospect generating and sales boosting programs built and ready-to-go…and yours could be next!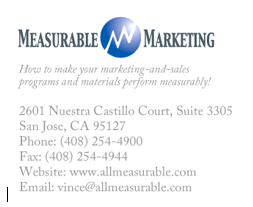 ---